Antique maps because of their age may get tears and stain that will require them to be restored. Adina Sommer provides specialized conservation services of 15th and 19th century antique maps, views and prints on linen mounted paper and all kind of hand made paper. Adina Sommer values the importance of restoring maps and maintaining the original features, therefore the techniques used ensure that the process of conservation and restoration of antique maps do not harm paper fibers or the original hand coloring. This is especially important, as Adina Sommer knows that the original color in maps is important to maintain the original story.
How to Determine if Your Map Needs Restoration:
These are some common issues found on deteriorating maps. If you have any of these issues, Adina Sommers can help you to restore your antique map.
Acid Burn-This is shown when there is browning or yellowing of the paper
Brittle paper- When this happens the paper of the map is easy to break.

Adina Sommer

will nourish and reinforce the paper again
Tears, holes and missing paper
Pigment loss, cracking and fading
Matte Burn – This is a brown line of acid burn around the image
Foxing – This is when the corroding particles in the paper create brown spotting
Acidic backing and/or matting – These can cause acid burn if not removed. Adina Sommers can remove them.
Tape and adhesive – These will stain the paper if not removed.
Water Damage – This can be rippling, mold or mildew and staining can all occur from exposure to moisture.
Insect Damage – This will happen because silverfish eat away paper and pigment, droppings can deteriorate and stain paper.
There can also be damage from handling cockles, deep folds, wrinkles and rippling and surface dirt such as dust, fingerprints insect droppings and soot.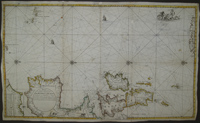 Restoration Process
Step 1: First we dry-clean the face and verso to remove all loose surface dirt and soiling. The original coloring will be sealed in, making sure all coloring is retained during the remainder of our work.
Step 2: Next step begins the actual cleaning process to remove stains and flaws with a procedure of de-acidification. Throughout this entire process, every attempt has been made to use nondestructive chemicals. Adina Sommer uses naturally safe methods, which are dedicated to preserving the original surface of the paper, the printing ink and the original color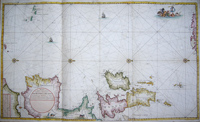 For assistance with restoring your maps, please email (email@antique-paper.de ) or call us:
Antique Sommer & Sapunaru KG
antiqua@asommer.de
Tel.+49 89 30002214